A "derby" at the top / FEURS 63-72 ANDREZIEUX
27.01.2016
0
Warning
: mysql_real_escape_string(): No connection could be made because the target machine actively refused it. in
D:\Domains\erlsport.com\wwwroot\wp-content\themes\nouveau\includes\shortcodes\shortcodes.php
on line
3244
Warning
: mysql_real_escape_string(): A link to the server could not be established in
D:\Domains\erlsport.com\wwwroot\wp-content\themes\nouveau\includes\shortcodes\shortcodes.php
on line
3244
Warning
: mysql_real_escape_string(): No connection could be made because the target machine actively refused it. in
D:\Domains\erlsport.com\wwwroot\wp-content\themes\nouveau\includes\shortcodes\shortcodes.php
on line
3244
Warning
: mysql_real_escape_string(): A link to the server could not be established in
D:\Domains\erlsport.com\wwwroot\wp-content\themes\nouveau\includes\shortcodes\shortcodes.php
on line
3244
Before the game, both teams were co-leader of group A. The stake was high since only one of the two would remains at the top of the group. It is finally Andrezieux who won 63-72.
But it was not easy! In front of a full gymnasium (1,700 people), both teams showed a high level basketball and a great intensity!

Lire en Français
Sasa Mijajlovic opened the score for Andrezieux. He will be valuable throughout the game, especially in defense, thanks to his size, strongly deterrent in the paint.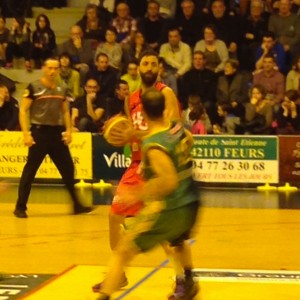 The shooters were successful like Régis Aubry, Yassine Bassine or Stéphane Neri. Milos Pavlovic entered at the end of the first quarter and as his compatriot he was very present : passing, defense, block shot …
At halftime, Andezieux had a good lead: 27-34. But from the restart Feurs came back in the game! Both teams did not let go with great marksmanship. Milos Pavlovic also showed his shooting quality by scoring a 3-point shoot.
The game was tight, but Andrezieux kept his advance and won 63-72! The team remains co-leader with Golfe Juan.
Congratulations to our players for their commitment and their results: Sasa Mijajlovic, 8 points, 6 rebounds and Milos Pavlovic 3 points, 3 block shot, 3 rebonds !