Andrezieux winner and co-leader! 85 ALS – 67 BCNA
20.01.2016
0
Warning
: mysql_real_escape_string(): No connection could be made because the target machine actively refused it. in
D:\Domains\erlsport.com\wwwroot\wp-content\themes\nouveau\includes\shortcodes\shortcodes.php
on line
3244
Warning
: mysql_real_escape_string(): A link to the server could not be established in
D:\Domains\erlsport.com\wwwroot\wp-content\themes\nouveau\includes\shortcodes\shortcodes.php
on line
3244
Warning
: mysql_real_escape_string(): No connection could be made because the target machine actively refused it. in
D:\Domains\erlsport.com\wwwroot\wp-content\themes\nouveau\includes\shortcodes\shortcodes.php
on line
3244
Warning
: mysql_real_escape_string(): A link to the server could not be established in
D:\Domains\erlsport.com\wwwroot\wp-content\themes\nouveau\includes\shortcodes\shortcodes.php
on line
3244
On Saturday night the 16th of January, ALS Basket hosted BCNA team in Victor Lacoste gymnasium. The game was held for the benefit of the association "Pas à Pas pour Lenny". The championship resumed after the break, with big stake: In case of victory, ALS will become co leader of the National 2 "poule A". ERL Sport team was present to follow the game.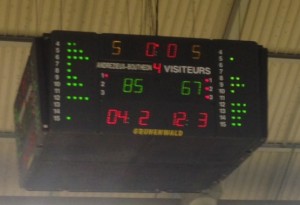 After a good beginning and good plays from both teams, Andrezieux widened the gap in the second quarter, thanks to fluidity and good moves in offense. Sasa MIJAJLOVIC (11pts 11rbs) was very efficient, he dominated the paint and was present under the rim.
BCNA has not yet said its last word with a big work inside the paint, reflected by Marco ILIC (11 pts, 7rbds, 3steals), and Aurélien PATEY (16pts, 24 eval). However, the experience and the efficiency of Yacine BASSINE (18pts) and Stéphane NERY (13pts) and the energy and agility of young players like Bastien TARDY (14pts) and Loic PIOTROWSKI (8pts) allowed ALS Basket to win the game. Despite respectable performance by BCNA, the game was won by leading team.
Final score: 85 ALS – 67 BCNA; Andrezieux is co-leader in group A.
Well done to our players Sasa MIJAJLOVIC and Marko ILIC who both recorded a good performance. Our thoughts go to Milos PAVLOVIC, absent from the game due the injury, who will be back quickly in good shape to help his team to stay at the top of the league!